What is SmartNews Insights used for?
Publishers with a signed contract with SmartNews get access to SmartNews Insights an analytics platform for SmartNews publishers.

The Insights tool includes:
Total ArticleViews

Total SmartViews

Average Duration of reading sessions

Number of Channel Plus subscribers

Details of views and shares for each article

Insights also provides controls to allow publishers pull articles from the SmartNews client if necessary.
To learn more about SmartNews Insights, how to gain access, or how to become a SmartNews publisher partner, please email partners@smartnews.com
Insights Summary page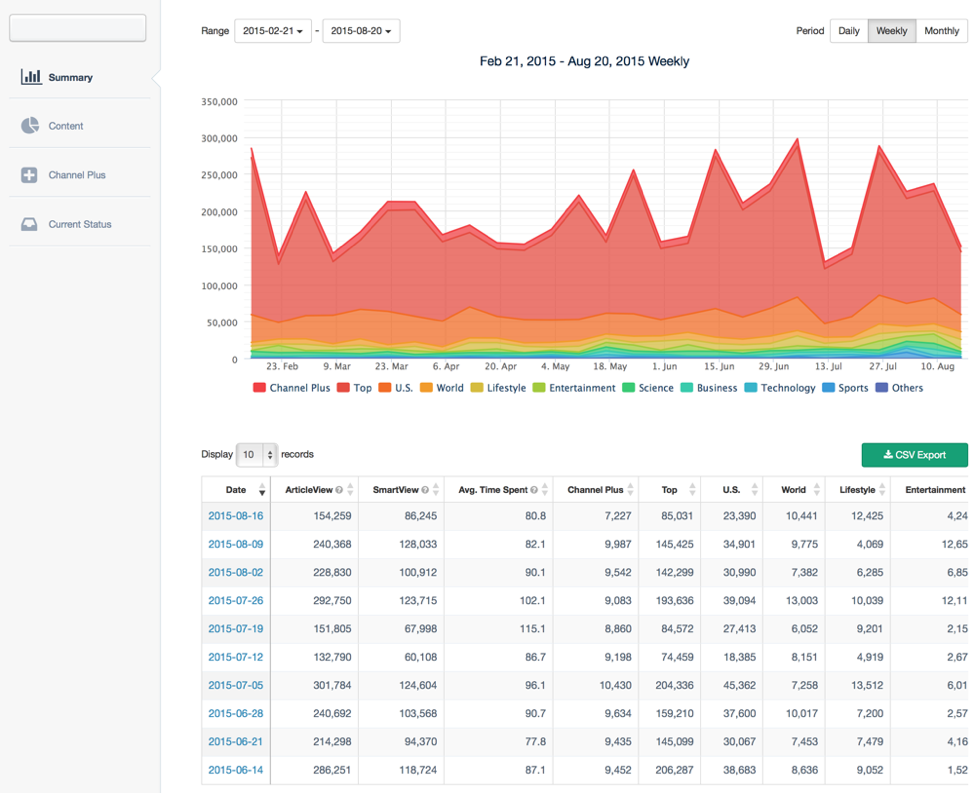 The Summary page is the default page a publisher sees once they log in. On this page is a stacked line chart and table with precise details of how the publication is being consumed by users of the SmartNews app.
Insights users can view usage over time and get an overall view of which section of the app is driving the most traffic and how the mix is changing over time.
In the table, we only include columns for which we have data, and that if any particular column has less than 30 page views for the time period, it will be rolled up into a column titled "Others."
Insights Content page

The Content page contains detailed information on an article-specific basis. This table tracks how many views a particular article has accumulated in both web view (ArticleView) and SmartView. The "Recommended" column tracks how many users discovered an article through the "Recommended" widget at the bottom of SmartView articles.
The Content page also tracks sharing to the following social networks / services:
Twitter

Facebook

Evernote

Pocket

Line
Finally, the far right column tracks which channel an article was featured in.
As with the other screens, there are controls to export the data to a CSV file so partners can manipulate the data in a spreadsheet or import them into their own analytics packages.
Insights Channel Plus page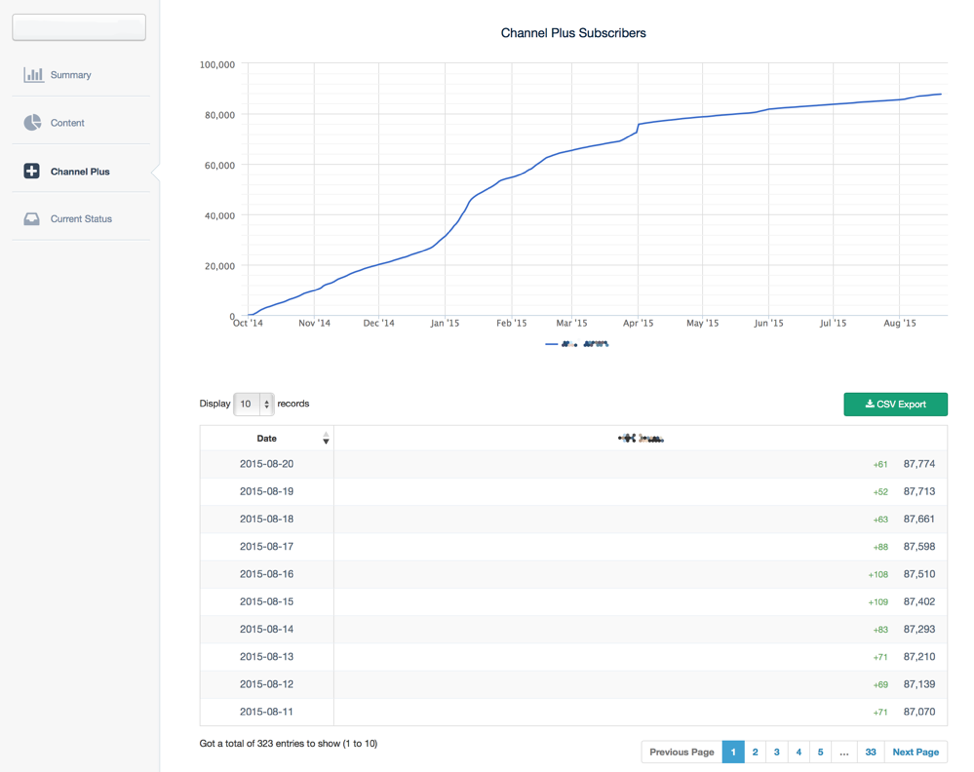 This section allows monitoring of the number of total subscribers to the partner's Channel Plus channel in the SmartNews application. The chart shows the total number of subscribers over time and the table shows specific numbers, including the additional subscribers added each day.
Insights Current Status page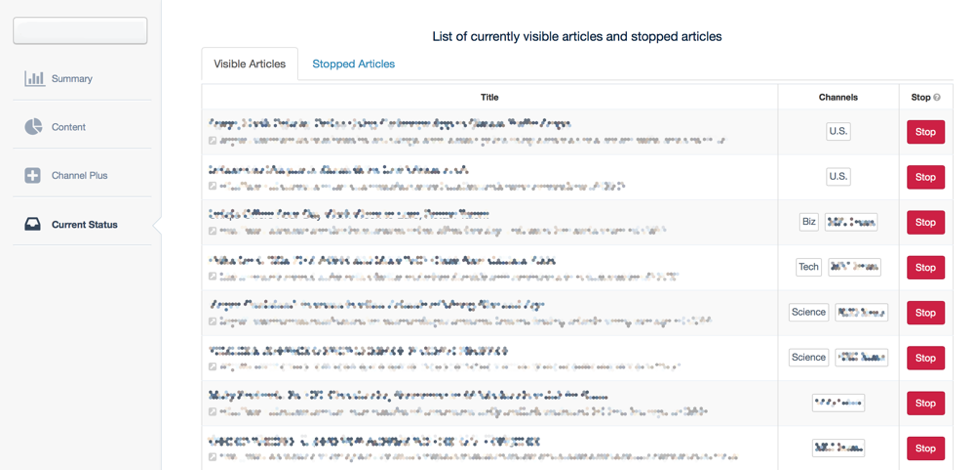 Publishers use this page to monitor which of their articles are currently featured in the SmartNews app and where each article is featured. If necessary, you may use this page to pull a story from the SmartNews app.
Please note that it can take 5 - 10 minutes for a story to be flushed from cache after someone clicks the [Stop] button.
Once a story has been pulled, you may make the story available again. Please note that that make a story available after it has been stopped does not refresh the story from the publisher's site so if a story gets pulled to make a revision, you'll need to contact SmartNews to refresh and re-index a story.
Insights Video page

The Insights Video page contains a table detailing video play and viewing statistics. By default, the videos are ordered by total plays. The table tracks number of plays, total play time in seconds, and what percentage of viewers reach 25%, 50%, 75%, and 100% completion.